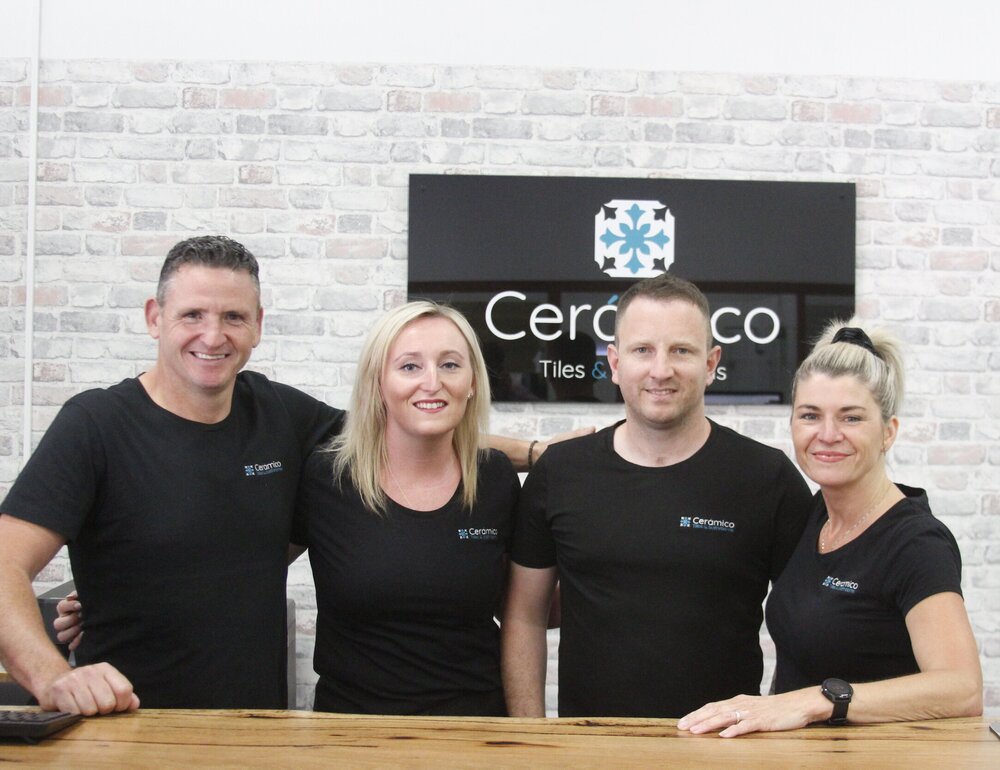 Kelly-Anne McGivern
11. November, 2023.
From a very fussy, apprehensive and skeptical customer, the team at Ceramico provided an outstanding service from start to finish. From the initial quote stage, to the planning, the product selection (allowing for many indecisions and mind changes), the workmanship and the level of detail on completion, Ceramico well exceeded any expectations. Jack is meticulous with an exceptional work ethic and I cannot thank him enough for what we achieved in only just over 2 weeks all with zero mess and disruption. He is truely a wizard in his craft! Paul and the Ceramico team run a tight ship and every step was smooth sailing and planned planned to perfection. I would not go anywhere else
Sue Daynes
11. October, 2023.
Highly recommended such a lovely shop with very helpful people. Happy to spend time and give advice - real customer service. Well worth a visit if you're tile hunting!
Les Pearce
28. September, 2023.
Great to deal with, friendly & knowledgeable staff & a very good range of products available 😀
Kevin Sanderson
21. September, 2023.
The level and quality of service from the girls (and boys) at Ceramico is just brilliant. In every dealing we had consistent, attentive and exceptional service from them all, so much so we continued to deal with them even though we moved out of the area… we'll be back once the memory of our last renovation fades!
Damian OConnor
4. September, 2023.
Thank you so much Paul, Jake, Troy and the entire Ceramico team along with your recommended contractors for doing such an amazing job, i cannot recommend you guys highly enough, your team is extremely professional and highly skilled and we love and appreciate everything you guys have done for us and our home.
John Franklin
29. August, 2023.
We chose CERAMICO for our wet area renovations based on their past reviews and we are so pleased we did. Our house in Rockingham had been a rental for many years and therefore needed totally updating. Paul gave valuable advice and ongoing communication during the works and this was relayed to their teams of guys to complete every aspect of each job and was an absolute delight to deal with. Leah, Cheryl and Carl in the showroom are professional and welcoming. They assisted us with tiles and fittings and their product knowledge was second to none. Everyone from Ceramico went out of their way to make sure our ensuite, bathroom and laundry areas were completed on time, within our budget and to the highest standard.  We are delighted with the outcome and would highly recommend Ceramico to anyone looking for outstanding service, quality products and attention to detail for their renovations. We are very happy customers thank you to everyone at Ceramico. John & Pauline
Sally Hackett
16. August, 2023.
Absolutely fabulous service from start to finish. Leah was so helpful when picking our products & fittings, as was Paul when designing our bathroom. The actual reno and fitting was also great, with regular photo updates and emails as we were away when it was completed. Nothing was too hard or too much trouble for the guys at Ceramico. We love our new bathroom!
We recently renovated our bathroom with the help of Leah from Ceramico. Leah made the buying of all the fittings and finishing extremely easy and an enjoyable experience. The guys were also a great help when it came to tiling selection and estimating quantities. The shop itself has an amazing range of the latest styles and trends and the staff are great for being able to envision what you're after, and provide advice as to whether it will all match and be what you'd hoped. Pricing is definitely on par with the market and you have the added bonus of having a real shopfront for instant advice and the ability to seeing the products in person, colours, textures, styles etc. You just don't get that when buying online, and if there's was to be any issue, you don't have to wait for an email back and items to be shipped. Overall, the team made the experience a real pleasure and took all the stress out of it. Thanks guys
Danielle Treloar
3. July, 2023.
Very helpful friendly people who work here have helped me every step on the way in designing my bathroom can not wait until it is done, my bathroom is great love the work thay has been done. Again all the staff and tradies have been fantastic would recommend to anyone who would ask
Mariam Lempriere
27. June, 2023.
Very friendly staff and helpful, also great products to offer for your renovation, I'm very pleased with results, Thank you